Climate activists have called a crown court judge an "unprincipled bully" during a protest against the arrest of a fellow activist for contempt of court.
Trudi Warner, 68, was detained on March 29 after she allegedly showed jurors in a trial involving Insulate Britain members a placard with the words: "You have an absolute right to acquit a defendant according to your conscience."
The message references a plaque at the Old Bailey commemorating a trial in 1670 where jurors were locked up and fined for giving a not guilty verdict for two preachers – which "established the right of juries to give their verdict according to their convictions".
Judge Silas Reid had told jurors in the trial, at Inner London Crown Court, to decide the case according to the law and evidence, and to leave aside any of their own views about climate change or property insulation.
Ms Warner, from Walthamstow, east London, has been referred to Attorney General Victoria Prentis KC for a decision on whether to press ahead with a contempt of court charge.
On Monday morning, 24 activists from Extinction Rebellion sat outside Inner London Crown Court carrying placards with the same message borne by Ms Warner.
The activists said they also handed in a letter to the court stating their intentions.
Lawyer Tim Crosland, who was disbarred for leaking a draft judgment about the building of a third runway at Heathrow Airport, said the protesters had chosen to be outside the court during another Insulate Britain trial to test Judge Reid.
He said: "He's backed off, he's left us alone. He's exposed himself as an unprincipled bully. Because if he really believed that those signs were interfering with the courts of justice, it was his duty to stop us. And he didn't.
"Think about what it means for Trudi and others who've been arrested. Those prosecutions are completely unsustainable, assuming we don't get arrested now."
The protesters, made up of doctors, lawyers and Quakers as well as a rabbi and a former police officer, sat in a row along the pavement outside the court premises showing their placards to passers-by.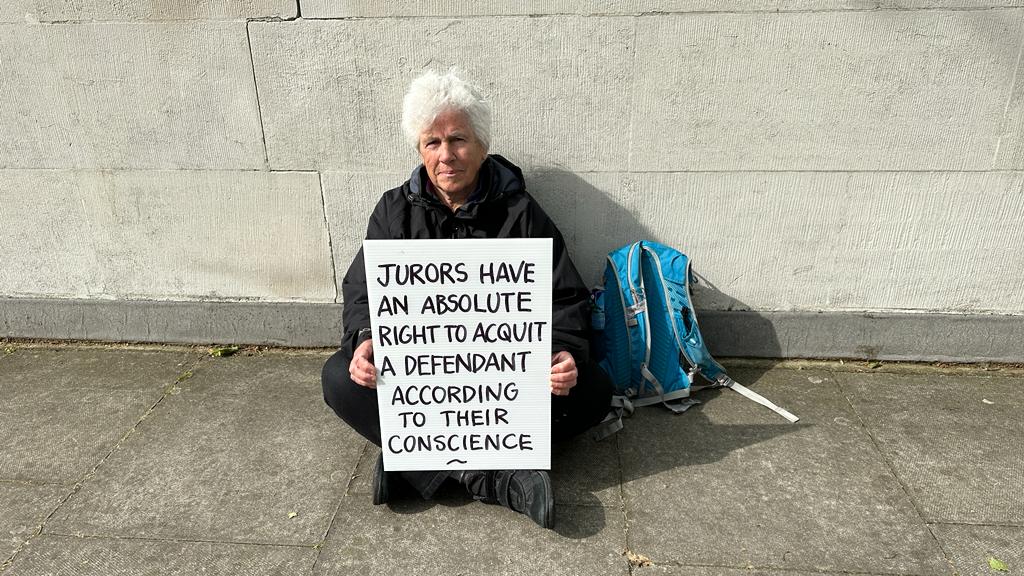 Angie Zelter said: "We've been here about half an hour and jurors have been going in most of them not looking very carefully at the placards, but some of them definitely, and I've had a couple of smiles from a few jurors.
"Then there was one guy who looked like he was a lawyer with his little funny white things on him coming along, taking a picture of every single one of us – that was interesting.
"It's very quiet. But the most important thing is that we're here in solidarity with other people who are trying to inform jurors of their rights."
Olympian Etienne Stott, who retired from slalom canoeing and is now a prominent climate activist, said: "For juries to be able to acquit a defendant on the basis of their conscience, they have to know the whole truth.
"At the moment, some judges are stopping that from happening by making it impossible for a defendant to tell the jury why they did what they did.
"This to me is very, very dangerous because it means that this right no longer has the power, no longer has the teeth that it needs."